Citilog CT-VideoWall Controller, is a software module that allows displaying live video streams on the video wall of a Traffic Control Center.
Displaying video stream on the video wall of a traffic management center is particularly important as traffic operators need to have a comprehensive view of the cameras involved in an incident to fully understand a situation. In incident management, time is of the essence and it is paramount that video display be efficient, relevant and fast. CT-VideoWall Controller has been designed as an integral part of the Incident Management solution with this objective in mind.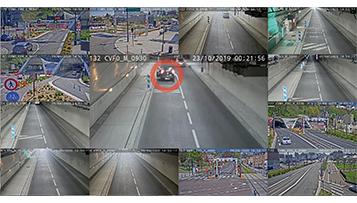 Citilog CT-VideoWall Controller: enhancing efficiency of the incident management system.
Easy configuration of a video wall display
Citilog CT-VideoWall Controller manages the display of multiple video sources to several monitors/screens used for visual confirmation. Using CT-VideoWall Controller the system administrator will configure the video wall remote control panel, the video wall layout, the function of each video wall screen.
Easy operation of the video wall for operators
CT-VideoWall Controller remote control panel enables the user to easily interact with the video wall: drag the video stream from a specific camera to a screen, clear a screen, run display scenarios and cycles. Several video walls can be controlled by a single remote-control panel.
CT-VideoWall Controller is particularly efficient in automatically displaying traffic events according to pre-recorded scenarios. Incidents, accidents that are detected by CT-IM Analytics can be automatically presented to operators on one or several screens in order to save precious time but also help making the right decision for managing the incident.
Open architecture
CT-VideoWall Controller is compatible with 3rd party Video Management Systems and Traffic Management Systems through Citilog CT-SDK. The SDK includes external commands to operate the video wall. CT-VideoWall Controller is compatible with any ONVIF Profile S cameras.
Support features
CT-VideoWall Controller
Video wall control
Smart display
Event display
Video cycles
ONVIF Profile S