Fast and simple operation of traffic sensors is key to a successful Traffic Management operation.
Citilog CT-TS Manager is a software module for configuration, tuning and management of Citilog's Traffic Statistics sensors. Running onsite on a laptop or in a control center, it is easy to implement and the perfect tool to manage Traffic Statistics analytics.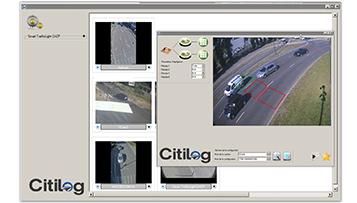 Citilog CT-TS Manager: a comprehensive tool for configuration and maintenance of Traffic Statistics sensors.
For a seamless system implementation
Citilog CT-TS Manager is designed to facilitate and automate as much as possible the configuration and fine tuning of Traffic Statistics Analytics. It is a scalable system and will be efficient whether you configure a small or large system, onsite or from a control room.
Operating in a safe and secure environment
From user management to cybersecurity features, CT-TS Manager lets you configure the analytics solution in a safe and secure environment.
Maintaining the performance of your analytics (maintenance)
Traffic Statistics is a key component of traffic operations. Maintaining the performances of Traffic Statistics sensors over the years is critical to ensure the efficiency of the overall Traffic Management system.
CT-TS Manager includes maintenance tools and functions that allow you to monitor the sensors performances over time and easily maintain their configuration to get the best out of your Traffic Statistics solution in the long run.​
Supported Features
Features:
Detection zone configuration
Detector status
Traffic Statistics display
System status
Technical alarms
Backup & restore
Cloud platform configuration
Installed on any Windows-operated computer